Source: Reveal.co.uk
Backstreet Boys: "We've said the craziest things to each other in rows!"
Backstreet Boys fans may be slightly alarmed to know that it has been a staggering 22 years since the band first got together.
But still riding high and into their third decade in the music industry, Brian Littrell, Nick Carter, AJ McLean, Howie Dorough and Kevin Richardson have charted their success in a brand new docu-film, which took two years to record.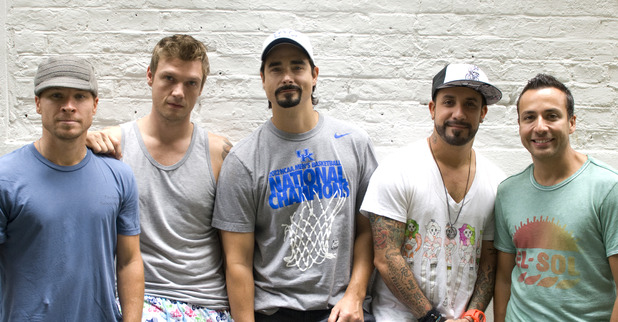 In the movie, Backstreet Boys: Show 'Em What You're Made Of, the US stars retrace their footsteps to where it all began while looking at the ups and downs that have made them the stars – and people – they are today.
Tomorrow evening, on the film's opening night, the Backstreet Boys will take to the stage for a live performance which will be beamed via satellite to cinemas nationwide to celebrate.
Ahead if this exciting event, Reveal caught up with Brian, Nick, AJ, Howie and Kevin to chat about the highs and lows of the past 22 years…
Show 'Em What You're Made Of is packed with emotion. What has been the most emotional moment of your journey?
[AJ] It's all been emotional. The fact, we're coming up to our 22-year anniversary and that is emotional in itself. It's been a lot of fun – we've had good times and bad times, but it's got us to where we are today. And we're still having fun!
If you could go back 22 years, what would you tell yourselves?
[AJ] Run, run as fast as you can!
[Nick] No, seriously, everything happens for a reason. We might not be sitting here talking about this documentary if we'd done anything differently. One little wrong turn and it might have derailed everything. You've got to take the good with the bad and you've got to love who you are.
So no regrets, then?
[Chiming together] No!
[Howie] Well, there was that one time…
[Brian] Oh, I know – we all should have bought stocks in Google and Apple!
Read Full Article